The "Hyper-Share" release includes three new features that enable curators to massively broadcast their curated content throughout the web.
1. Broadcast your pearls and pearltrees to show their value
To get started just connect your Pearltrees account to your accounts on Facebook and Twitter!
Once you do, you'll be able to automatically share your new pearls and/or pearltrees directly with your friends and followers!
Tip: if you like to share a lot of links, be sure to use our regulation feature to avoid flooding your friends and followers with too many links too quickly 😉
2. Embeds have become more interactive
You already know how to embed a pearltree. Now your readers can pick the most interesting pearls directly from your embeds to add them to their own accounts. Want to give it a try? Check out the embedded pearltree below 😉


WIth this release you can also post a pearltree right to Facebook and your friends can browse it right in their newsfeed and even pick some pearls from it to add them to their own accounts
Just click on the play arrow will open the pearltree 🙂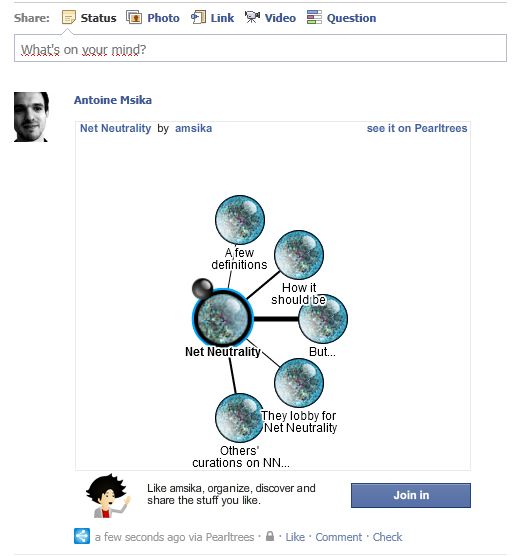 What will you share?
3. Crowd-source the best links you've discovered in your areas of interest
1. Identify cool pearltrees on your favorite topics
2. Pick those pearltrees and put them in your account
3. Use the new button to find the cool stuff that you and the Pearltrees users you follow have added each day
4. Use the tweet button to broadcast the best pearls you've found
Bonus: bigger pearltrees can now be reorganized automatically
Good news : pearltrees can now contain up to 100 pearls!
However, great pearltrees require great organization. For everyone to be able to easily browse your pearltrees, the pearls have to be well organized. When too many pearls (around 25) are linked to the same point it can cause the links between them to become too long, making it hard to browse the pearltree. When this happens we suggest that you either reorganize the pearltree yourself or allow Pearltrees to do an automatic reorganization to make your pearltree easier to read. Don't worry, if you don't like how a pearltree has been reorganized, you'll be able to revert it with only one click. However, if you continue to add more pearls and don't organize it yourself, a pearltree will be automatically reorganized once again when it has a total of approximately 35 pearls added to a single point. When this happens the auto-reorganization cannot be reverted.