Pearltrees keeps its fast iteration pace and we're very excited to release today the new iteration of Pearltrees: Pearltrees alpha 0.4.1 called "French Kiss". Our main objective was to enable you to build the world of your interests so we worked on 3 mainstreams:
I Natural organisation: making things easier
- To organize your account and arrange your pearls, pick one pearl at a time and put it where you want.
To move a branch, click on the pearl at the beginning of the branch, and maintain your click. After a short time, the links between pearls will become blue: this indicates that you selected the whole branch, you can move it anywhere you want.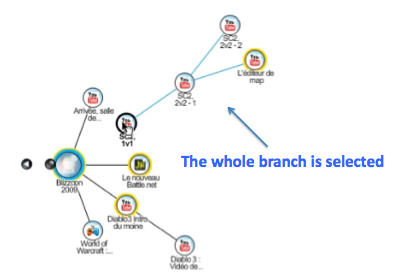 - Right click: there is now a functioning right-click on pearls and on pearltrees. Use it to share, copy, cut and delete your pearls easily!
- "Up" button: when you browse from a user account into a pearltree of another user, use this new button to go back where you came from
- "What's connected": We've improved the algorithm that calculates how close pearltrees are from one another to determine the "what's connected". It is now more accurate!
II User interface
- Colors: You'll notice it quickly, we changed the "look and feel" of Pearltrees. The idea is to concentrate colors on things that really matter to you (your pearltrees!). All the rest is uncluttered. The blue has become the main color as it symbolizes connections.
- Pearltrees is now available in French! (yeah I know you english speakers don't care…)
III Deeper integration to the Web

Pearltrees' vocation is to be deeply integrated into the Web. Two features are a step toward this integration. You'll find them in the pearl window when you click on the "Share" button (which is now at the bottom of the first tab).
You see a pearltree or a pearl you like? Share it with your friends!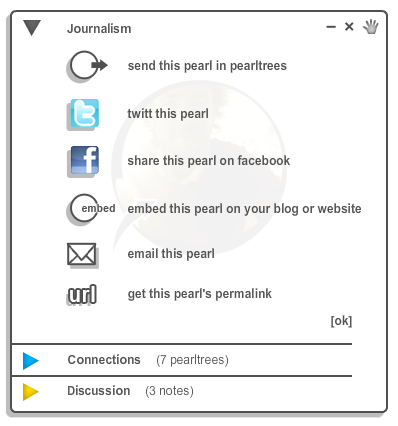 -"Twitt this pearl": share the pearl on Twitter
-"Share this pearl on Facebook" Well, I can't see anything to add :p
Some are already waiting for the next iteration, so here is a small teasing: it'll be available for LeWeb'09 on December 9th and 10th!
Filed under: Platform, User Interface by pedaviet on November 12th, 2009