Over the years, we've worked hard to make the Pearltrees experience absolutely coherent across the different platforms. But at the same time, we've leveraged some specific advantages offered by mobile devices to deliver a great experience on the go both on iOS and Android. Beyond Pearltrees' general benefits, our mobile apps have gradually accumulated a lot of unique advantages. Here are five things you may have missed that will make you love Pearltrees even more on mobile.

1. Save anything from apps!
You already use the extension to collect what you like on the web, but did you know you can use it to collect photos, notes and items directly within other apps? Simply use the "Share" button to put anything you want into Pearltrees. It works exactly the same for Android users and on iOS8. And, just like the Web version, all the classic collecting tools are available so you can add anything to your collections by email, via Facebook and Twitter or directly from the app with the star button.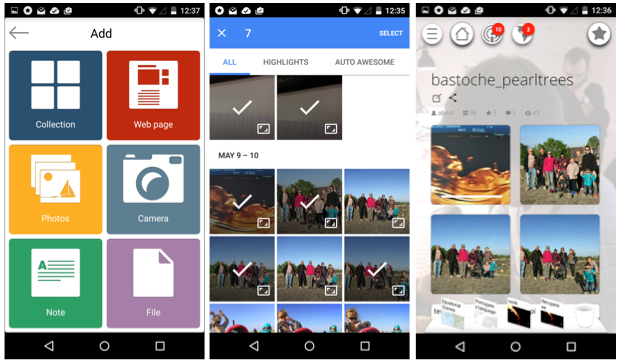 2. Upload tons of photos all at once
No other app handles photos like Pearltrees! Beyond the amazing photo organization capacity, our apps also have a great advantage: massive uploads. You can upload multiple photos from the Pearltrees app by clicking on the "add" button, select as many photos as you want and upload them all at once! iOS8 users can even go to the photo app and upload a whole moment (up to fifty images) in two clicks! There's no limit to what you can do with your photos on Pearltrees.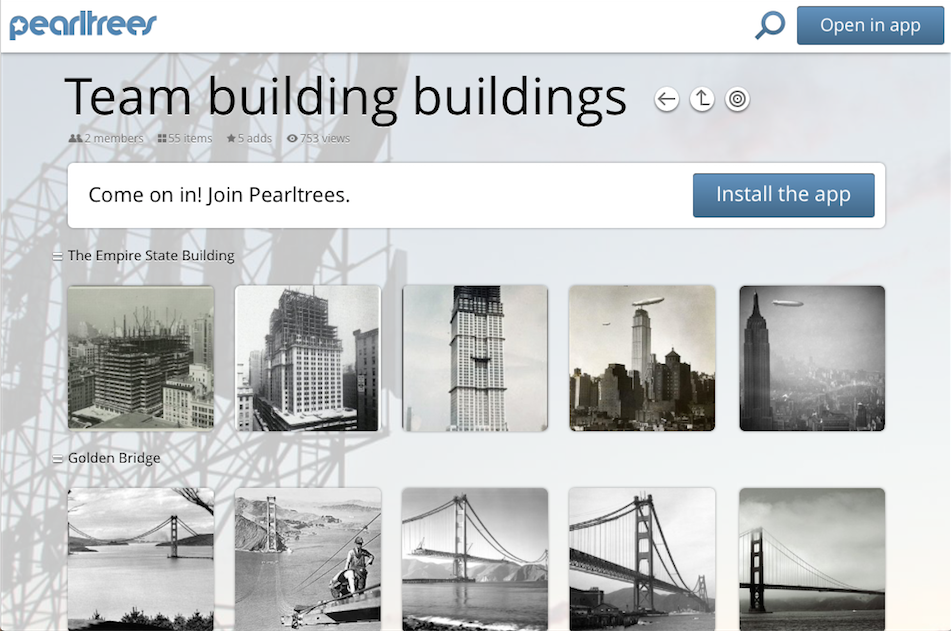 3. Universal sharing
Don't you hate installing an app just to see what someone sent you? You're not alone. Thanks to our universal HTML5 interface, you can be sure that any collections will be displayed nicely whatever the device. Besides, visitors will be able to check related collections and even do their own search within Pearltrees. Now, what you share from Pearltrees can be viewed anywhere, even without the Pearltrees app. So go ahead and share your collections on the go without a second thought.

4. No bars? Offline mode!
Subways, airplanes, offices facing interior walls… There are still places where your network leaves you hanging. For these situations, Pearltrees apps have an offline mode. In any situation, browse your collections, watch your photos, read some articles. You can even add notes or photos to your account while being off line. This Premium feature is a life saver. With Pearltrees it doesn't matter where you are, your interests are just a tap away.

5. Free up space on your mobile!
Pearltrees is an amazing way to preserve the limited (and expensive) storage on your mobile devices. Add all your content to Pearltrees — especially photos — then delete the images from your camera roll. Everything will be saved to your Pearltrees account and will stay visible anytime, even offline. Best of all, what you've uploaded to Pearltrees takes virtually no space on your phone unlike the original files.

The Pearltrees app adds a new dimension to your mobile devices. It's probably why the App Store featured us in nearly 120 countries over the last month. If you have not downloaded it yet, give it a try! See for yourself why we're so sure you'll love it. And if you agree, give us a 5-star review!
Happy pearling!

Filed under: Mobile, User Interface by pearltrees on May 18th, 2015