With Pearltrees you were already organizing what you like on the web?  Now it gets even faster, but also customizable and more practical!
So, what's new ?
1/ Account customization:
Custom avatars
Instead of each of your pearltrees having only your original avatar, you can now use whatever avatar you like for each pearltree.  Have a pearltree about sailing? Now you can use a boat! Science? Maybe a microscope –  it's entirely up to you.
2/ User interface upgrades:
Zoom
Now, whether you like your pearls bigger or smaller the choice is yours. Just use the zoom button to zoom in or out.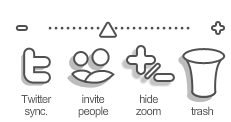 Full-screen videos
Pearltrees' browser have been displaying full screen videos from your mainstream video services like  Youtube, Dailymotion, Vimeo etc… Now, we are supporting more that 50 video services, including Twitvid, Break.com, Blip.tv and many more!
Collapsable lists of your pearltrees
Now you can simply and easily filter what's visible in your list of pearltrees to make organizing faster and easier – just click the arrows alongside the name your pearltrees to open or collapse each tree.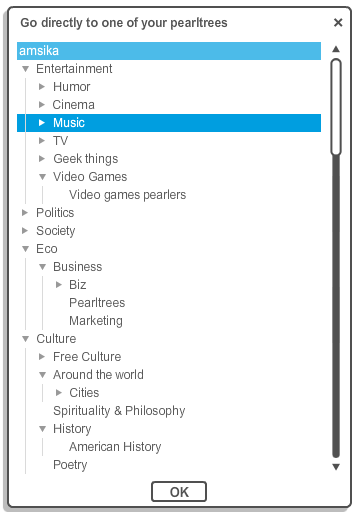 Label "new"

You can now see at a glance the new pearls in the pearltrees you picked : a "new" label claims it. To go from a new pearl to another, just click on the white arrow next to it!
The Super Embed
The Super Embed enabled you to show your pearltrees to the readers of your blog or website. We upgraded it to improve your readers experience: they can zoom in or out, and, above all, a mere mouse-over will open a window next to the embed, displaying the content of the pearls!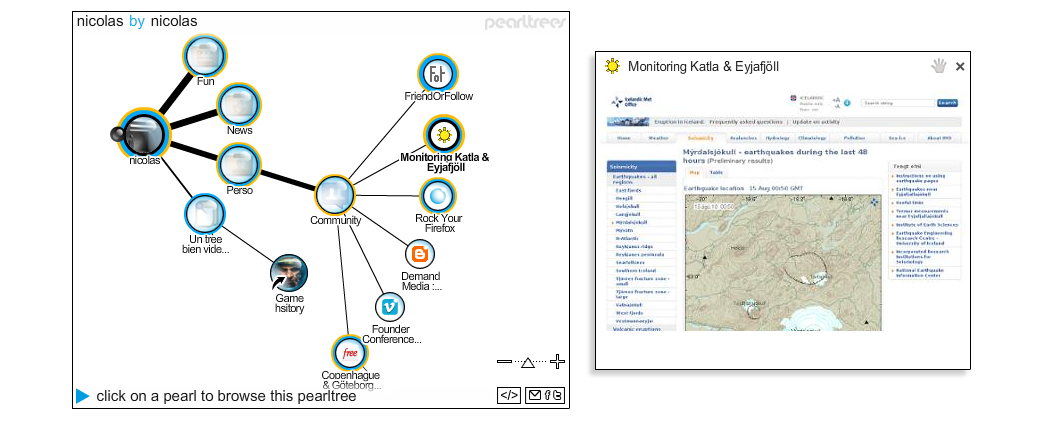 3/ Performance improvements:
Faster browsing
We've been talking about this feature for a long time but now it's finally here!  Enhanced prefetching allows Pearltrees to make your entire Pearltrees web-browsing experience better by dramatically speeding it up.  Each time you open a pearltree we begin to prefetch the content of all the associated pearls.  The content will already be loading in the background so when you click the link the new page (or video, or audio) opens instantly – it's browsing the web the way you always imagined it should be!
Firefox Add-on
We have also upgraded our Firefox Add-on. Now you can pearl any link you find on the web with just a right-click!
To be sure to have this latest version, just click here.
And of course, don't forget to invite your friends to join you on Pearltrees!
One of the best ways to get the most out of your Pearltrees experience is to share it with your friends.  Pearltrees has a great invite feature that makes it possible to show your friends the great content you've curated while inviting them to participate. Don't forget to check it out.