For months now you have been curating your pearltrees by yourself. You've discovered new pearls and enjoyed sharing curations with your friends on Twitter, Facebook or directly on your blogs.
Now imagine a group of passionate people curating the same pearltree. It would be fantastic! With Pearltrees beta 0.8, you can team up to discover, organize and share what you like. So when you find a great pearltree don't wait, just Team up!
It's easy, just click on "Team up"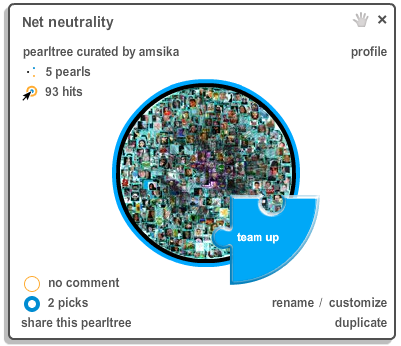 The owner will then accept or ignore your request
Once accepted, you can curate it like your own.
A really cool feature is that everything happens in real-time! This means that any change to the pearltree made by your team will appear on your screen immediatly. Cool, isn't it?
Check the events in your team feed : your team request, the new members, your invites, they are all in there.
They are also new features in the interface:
Click on "related" to display the pearltrees that have the most pearls in common with a specific pearltree.
And "popular" is back! It displays the pearltrees that have the highest number of members, pearls, hits and picks.
All the links that were on the right column are now organized in the buttons located at the right of the search bar.
So, with who will you team up?