The Pearltrees update for the summer is now live! Designed to simplify invention, exploration and collaboration, this version called "Leonard" leverages the social dimensions of your account. Here are in detail the new features we have developed for you to cultivate your creativity all summer long:

1. Stimulate your inspiration


If you want to stimulate your inspiration by discovering new collections, you can take advantage of the last upgrade of our central algorithm called "treerank". It now recommends contents close to your interests on demand and in real time. More powerful and efficient than ever, it extracts precisely interesting topics just for you among the millions of collections curated by the Pearltrees' community. Moreover, you can customize these recommendations by filtering them according to what's popular, trending or close to you in Pearltrees.

2. Collaborate more to discover even more


Collaboration has become child's play! With a single click, you can subscribe to an interesting collection or follow someone's activity. Afraid to be overwhelmed by the activity flow? Check the notifications filters. You can now control everything : last items added, last messages received, last interesting comments and items shared by your network. Feel free to collaborate in order to take full advantage of Pearltrees community knowledge.

3. Share your ideas without hesitation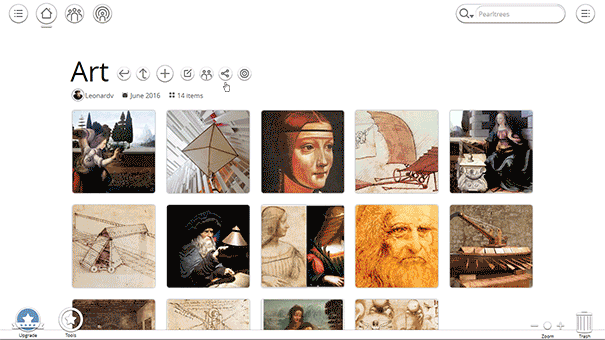 You're dying to share an item with some of your friends but it belongs to a private collection… Do you have to place it into a public collection first? Do you have to duplicate it? With "Leonard", there is nothing to worry about. You can now share a single item without giving access to the full collection. Other new feature, the offline mode on your mobile will give you access to all of your items including the ones of your teams.

4. Add everything from absolutely anywhere
You're already able to add items to your account from your browser with the web clipper, from your desktop by drag-and-drop, from your mobile via the Pearltrees app and from anywhere by email. Now, with the address add@pearltrees.com, you can turn the texts, the URLs, the images and the files carried in your emails into as many Pearltrees items. And last, but not least, we've pushed forward the capacity of your collections up to 250 items!

Now you know more about the main features of this new version. However, there are still many more surprises and improvements hidden in Pearltrees consumer, education and entreprises versions… We wish you a good discovery of "Leonard", starting today on the web and in a few days on mobile and tablet. Have fun!
Filed under: Uncategorized by pearltrees on June 14th, 2016