beta 0.6 release will mark the entrance of Pearltrees in the real time era. Pearltrees becomes the first web RIA to be in real time. Beyond the engineering achievement, it enables everyone to organize her or his web as in real life, in only two clicks.
• Pearltrees goes real time to offer a more natural experience. Every action, wherever on the web, impacting your account will be reflected immediately in Pearltrees. You don't need to refresh anymore. Pearltrees makes the F5 button useless. Hence, when you pearl while browsing on multi-tabs or on several windows, you can see instantaneously your pearltree expanding.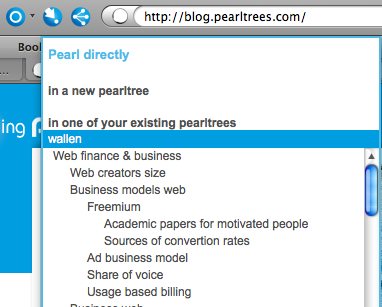 • Organize your web in two clicks.
Not only are interactions in real time, but also the Firefox and Internet Explorer add-ons enable you to pearl directly in your account via a tree shaped list of all your pearltrees. So when you see an interesting content while browsing:
Click the 1st button to pearl it (turn the web content into a pearl)
Click the 2nd button to choose the destination of your pearl in your account
Pearltrees is more than ever the must-have assistant to make something out of your browses.
• Jump directly to the updates of the pearltrees you follow! You probably picked some interesting pearltrees in other users accounts. Maybe you even saw them blinking when they were updated with new content. From now on, you don't need to look for the novelties in others pearltrees: click on « Direct Go » to jump directly to the updates. You can discover in one click all the novelties in Pearltrees that matter to you. So don't hesitate: pick and follow everything that interests you!
• Pearltrees and Twitter ever more integrated. You can share your pearltrees automatically with all your followers (« auto-twitt »). You can also write your twitt directly in Pearltrees. No need to go to your Twitter account. For those who synchronized their Twitter account with Pearltrees (« auto-pearl »), the hashtag required to put directly a pearl in a given pearltree from Twitter (e.g., #nameofthepearltree) is now more tolerant to typos : the synchronization will recognize the pearltree in which your web content must be stored.
• A better search ranking for your pearltrees. As you know, each pearltree has an unique URL and it can be referenced on search engines. The technical team upgraded the presentation of your pearltrees to improve their ranking. It will thus increase the visibility of your editions…!

• More space for a better experience. The pearl window, that pops up when you click on a pearl, can now be docked in your tool bar: you have thus more place for your organization. Moreover, the names of the pearltrees in your dropzone and in your pearlmail inbox are now displayed. When you browse into a pearltree, the navigation bar is now more discreet to improve the visibility of the websites.
Filed under: Platform, User Interface by Frocaboy on February 22nd, 2010