This year has been full of news! Thanks to Pearltrees for iPhone, you can now carry your entire library in your pocket,  and you can make Pearltrees your own with Pearltrees Premium. To finish off the year in style, we have prepared some final surprises…
Pearl by mail to enrich your library wherever you are
Now, even if you haven't installed the pearler  your iPhone of iPad, or if your mobile or tablet is an Android device, that's no problem! You can now add pearls to your library with a simple e-mail! Pearling via  e-mail is very simple:
First, go into your account to activate the feature.
Then, when you want to pearl a web page, just send its URL by email to add@pearltrees.com specifying in the subject line the name of pearltree where you want Pearl, preceded by a #. For example: #Design to put the pearl in your pearltree Design.
Your pearls are precious, give them the place they deserve
Unique icons for your pearls (Premium)

Now, when you collect photo pearls, the photos are visible directly in the icons for each of those pearls.  And if you choose to become Premium member, you'll even be able to customize the icons for every single one of your pearls!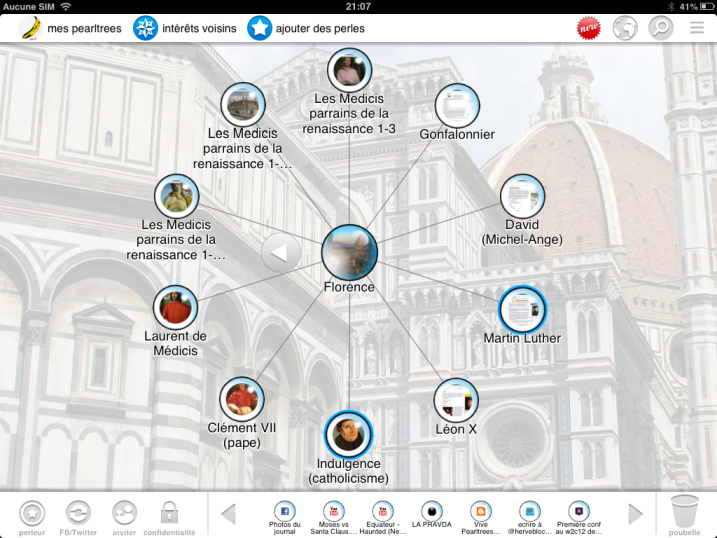 Add beautiful wallpapers to your pearltrees! (Premium)

If you are a Premium member, you can also choose a custom wallpaper for each of your pearltrees. It is ideal to contextualize your pearls and increase their value.
Navigation in your library becomes more enjoyable on the iPhone and iPad
A new full-screen mode to enjoy your collections

On iPhone, double tap the screen to launch the full screen mode. You can then navigate comfortably in your collections and those of other members.

A new, more powerful "new" menu

On iPhone or iPad, you can now enjoy a streamlined, and more powerful "new" feed. All new pearls added to the pearltrees you follow are better presented: you can see their title, and pearltree preview at a glance.