Pearltrees Beta 0.8.1 is online, a new release that brings more control, more comfort and more simplicity. No revolution here, the purpose is only to bring a nicer and more interesting social curation experience.
Here's what you can expect:
A more convenient and aesthetically pleasing UI
A more intuitive interface


Pearls are now slightly larger and easier to move. A single click now allows you to move an entire branch. If you wish to move a single pearl, just click and hold and it alone will be selected. Also, a pearltree can now be opened with one click and navigating back through previously opened pearltrees has been simplified with the addition of a small black arrow to each pearltree.
Improved ergonomics in our browser


For more comfort, the navigation keys have been moved up to the top of the display, reduced in size and sharing a pearl or pearltree on Twitter or Facebook now only requires a single click.




Restore your lost pearls or pearltrees


One of your most frequent requests has been for us to implement an "undo" feature, in order to restore some pearls that might have been lost. Now clicking the restore button at the bottom right of the interface allows you to recover very easily pearls and pearltrees that might have been accidentally deleted during a session.



Share your discoveries with one click!
Now you can share very easily the most valuable pearls and pearltrees with your Twitter and Facebook contacts, on your blog, and of course in Pearltrees: just click on the appropriate button in the detail window.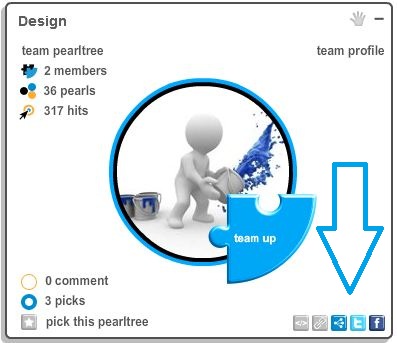 Improved management and communication for teams
Collaborative curation has been very successful. Many of you have created teams when still more have joined up with previously existing teams. The warm reception has been very encouraging and your feedback has also convinced us to improve how teams are managed and how team-members can communicate about and within a team.


A better communication between team members


First of all, teams now have an editorial panel that can only be edited by the founder of a team. This space will give the founder the perfect opportunity to provide guidance as to his or her objectives for the team. A second newly implemented communication feature for teams is the addition of a private panel that is accessible only to the members of each team. It is intended to support discussion amongst team members specific to that team's pearltree.




Logged team history


Sometimes, a team member may move or delete unintentionally one of the pearls or pearltrees of the team. By logging the history of every change made to a team pearltree we have made it possible to restore missing or moved sections of a team pearltree!




Teams become more selective


Now, you have more control over who can team up with you. Now, once a candidate has been rejected by one team-member other team members no longer have the option to add the user. But don't worry, if a candidate was rejected by accident you can always specifically invite that candidate to join your team.




More control for team founders


Team founders now have increased control over their teams. Now only the team founder can add new sub-teams to a team, permitting the founder much greater control over the structure of a pearltree.
Better internationalization
Because social curation doesn't know borders, Pearltrees now supports a number of different languages and international alphabets