Yesterday, Yahoo announced their intention to shut down Delicious. It is a sad piece of news. Delicious has been a great source of inspiration to us and a major contribution to the possibility of a humanly organized web.
This announcement is not the end of the idea, though. It is a signal that it is time to move to a new generation of human organization: curation communities.
We believe curation communities are the next generation for two reasons:
1. They let you manipulate web pages without tagging them, so you can give them your own meaning, find them again easily and guide others through them.
2. They let you collaborate in real-time with other people based on common interests.
Pearltrees is a social curation community. It provides an experience that is very different from social bookmarking tools.
Want to try?
Here is simple and quick process to give new life to your bookmarks:
1. Set-up your Pearltrees account here
2. Go to your settings and click the tool at the top right of your account
3. Select "import" in the list
4. Fill in the relevant field with your delicious or a Yahoo ID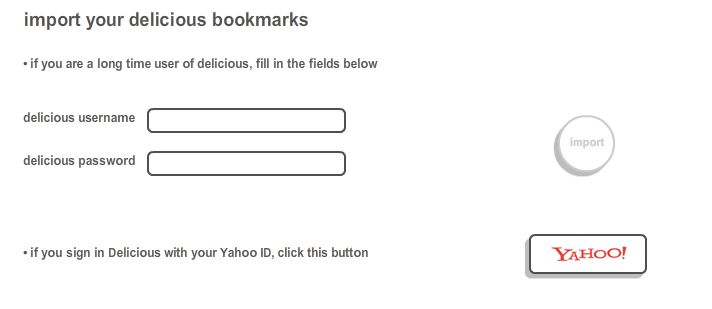 5. Once imported, play with your pearls and shape them your own way.
Welcome to Pearltrees, the social curation community!
[ Edit: Yahoo has now announced that they rather intend to sell Delicious. This does not affect what we think as written above.]


Filed under: Ecosystem, Imagine, Trends by Frocaboy on December 17th, 2010